Tequila Tour Package 7 days / 6 Nights
Day 1: Arrival in Guadalajara Transfer to Hotel
Arrive at Guadalajara International Airport and transfer to your hotel.
Take some time to relax and settle in after your flight.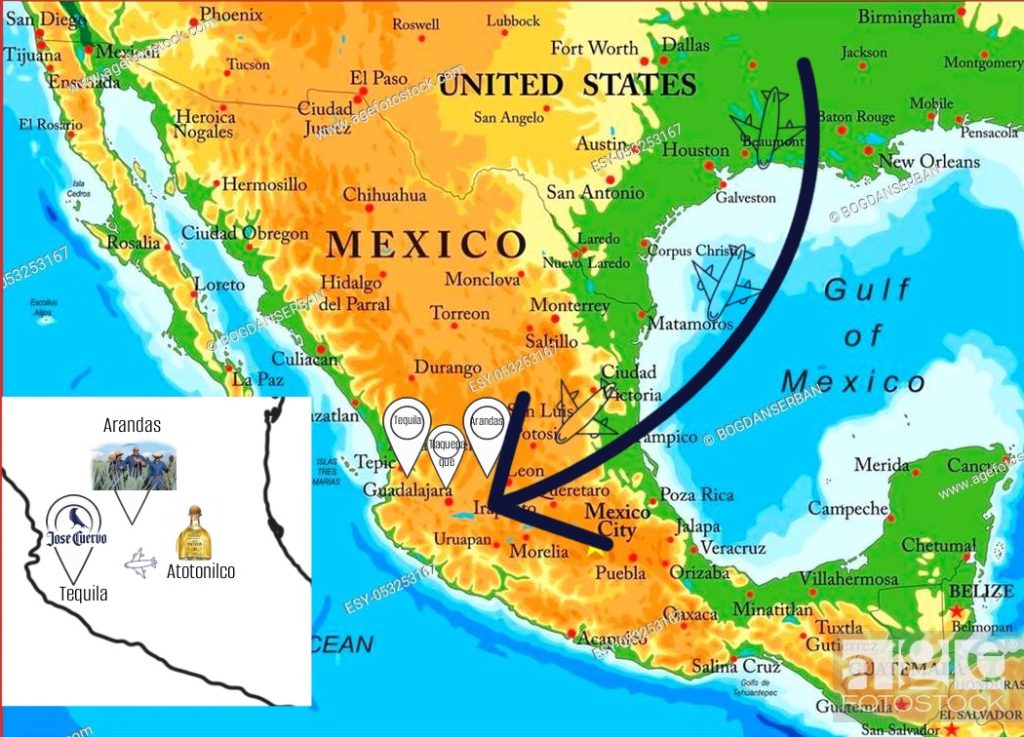 Guadalajara is the second largest city in México, and is a modern metropolis with an international flavor that still maintains its colonial traditions.
We transfer from the airport to the hotel, located in the heart of the beautiful historical district, where we spend two nights.
In the evening, explore the vibrant local food scene and enjoy a delicious dinner at one of Guadalajara's renowned restaurants. Meet your local expert.
(D)
Day 2: Tequila Jose Cuervo Express Train Adventure
Embark on a full-day tour to Tequila on a premium train experience, a charming town famous for its tequila production.
Visit a traditional tequila distillery and learn about the process of making this iconic Mexican spirit.
Take a stroll through the town's historic center and visit the National Tequila Museum.
Enjoy a tequila tasting session and savor the different flavors and varieties.
(B)
Day 3: Guachimontones Rounded Pyramids
Experience the unique and fascinating Guachimontones rounded pyramids.
Explore the ancient archaeological site and marvel at the circular stepped pyramids.
Learn about the history and significance of these pre-Hispanic structures from a knowledgeable guide.
Enjoy a picnic lunch surrounded by the stunning natural beauty of the area.
(B)(L)(D)
Day 4: Arandas Tequila Distilleries
Our route today will take us through the farmlands of the Highlands of Jalisco. We venture into the town of Arandas, known for its tequila production.
Visit multiple tequila distilleries and learn about the intricate process of tequila production, from harvesting the agave plants to the aging of the spirit.
Engage in tastings and discover the distinct flavors and characteristics of Arandas tequila.
Enjoy a traditional Mexican lunch in a local restaurant.
(B,L,D)
Tequila Tour Package 7 days / 6 Nights
Day 5: Atotonilco Tequila Distilleries
After breakfas this day we explore Atotonilco region, another renowned area for tequila production and the house of Patron.
Visit a selection of distilleries and gain insights into the craftsmanship and artistry behind tequila making.
Immerse yourself in the rich cultural heritage of the region and discover the stories behind each distillery.
Indulge in tastings of high-quality tequila and experience the nuances of different brands.
(B,L,D)
Day 6: Guadalajara Nightlife and Fun
Spend the day exploring the vibrant city of Guadalajara.
Visit the historic center and explore landmarks such as the Cathedral, Plaza de Armas, and Hospicio Cabañas.
In the evening, immerse yourself in the lively nightlife scene of Guadalajara.
Enjoy live music, dance performances, and delicious cocktails at one of the city's trendy bars or nightclubs.
(B,L,D)
Day 7: Departure Transfer Out
After breakfast, check out of your hotel and transfer to Guadalajara International Airport for your departure.
If time permits, you can do some last-minute souvenir shopping or visit a local market.
Bid farewell to Guadalajara with cherished memories of your tequila-filled adventure. (B)
Note: This itinerary provides a general outline for your 7-day trip to the Guadalajara area. The sequence and specific details can be customized based on your preferences and the availability of tours and activities. Things to do in Guadalajara with Panoramex Tours will ensure a seamless and enjoyable experience throughout your journey.